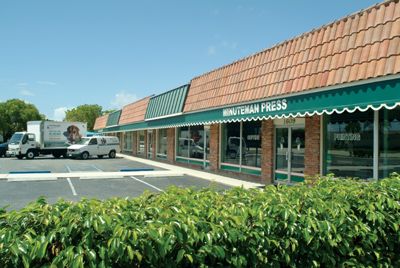 Just as we believe it's important for us to know who you are and how you approach your business, we also believe it's important for you to know who we are and how we approach ours.
Here you'll learn about the people, culture and capabilities that make our company unique. If you want to know where we're located, our hours of operation or simply what makes us tick, just follow the provided links for more information.
Once you take the time to find out what we're all about, we're confident you'll like what you see.
We would like to first provide details about how we are different from other Boca Raton printing companies:
One way we are different than other Boca Raton printers is that we live and breathe the mantra – "Better Because We Choose to Be". Throughout the process of getting your marketing materials produced there are many decisions our team has to make and when they follow this mantra they make the decision that will result in a better marketing product for you. In turn, your company will look better than the competition.
A second differentiator between us and other Boca Raton printing companies is that we have professionally trained and college educated graphic designers in-house. This means that we can turn your layout ideas into marketing masterpieces! We can even make your current designs better. By combining graphic design and print production with us we are able to ensure more value for your marketing investment.
A third thing that makes us different than other printers in Boca Raton is that our customer service is based on a quote by Maya Angelou – "People will forget what you said, people will forget what you did, but people will never forget how you made them feel." As a result, it is our mission to ensure that every customer is treated in such a way that we made them feel good about using Minuteman Press of Boca Raton for their marketing materials.
A fourth differentiator is that we are actively involved in the Boca Raton community. Mike and Lise Orr have lived in Boca Raton since 1998 and are raising a family here. As a result, they care deeply about the success of local businesses and bought Minuteman Press of Boca Raton with the goal to help local businesses with their success through marketing programs. They are active members of The Greater Boca Raton Chamber of Commerce. Mike Orr is a member of leads group #1 while Lise Orr is an Ambassador. In addition, Lise is a member of the Junior League of Boca Raton. As a company, we support local non-profits such as The Greater Boca Raton Chamber of Commerce, The Literacy Coalition of Palm Beach County, American Fine Wine Compeition, and many others.
Finally, through our unique combination of equipment and experience, Minuteman Press of Boca Raton produces over 90% of its sales in-house. This is highly unusual in the print industry as many companies produce less than 60% in-house. From our customers standpoint, this means we are able to better control costs and quality and as a result deliver the best value in marketing materials in the area.